GLASTONBURY COUNTS
"Together we can cool it"
Festival goers, performers, workers and volunteers at Glastonbury 2007 raised the roof on climate change this weekend with over 70,000 new supporters signing up to the UK's I Count campaign to stop climate chaos.
"Huge numbers of people here at Glastonbury festival this weekend have demonstrated that there is a growing, irresistible movement of people calling for action on climate change. Together we're proving that individual action to reduce our carbon footprints and positive pressure on politicians does count. This weekend proves, that individually we are great but together we are irresistible!" said Lucy Pearce, Campaign Manager for I Count.
Glastonbury organisers Michael and Emily Eavis joined the three headline charities - Greenpeace, Oxfam and WaterAid - and urged everyone to get behind the 'I Count' campaign. Artists who added their name to 'I Count' include: Jo Whiley; Peaches Geldof; The Kooks; Just Jack; Klaxons; Zane Lowe; Billy Bragg; The Arcade Fire; Keith Allen and many more...
You are irresistible.  We are irresistible.  With small steps we can do almost anything.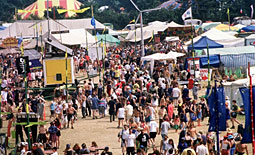 Sign up online www.icount.org.uk or text 'I Count' to 84424.
Glastonbury took place 22nd-24th June.
Do you count yet?  Sign up to the I Count campaign here >> 

or text 'I Count' to 84424

Glastonbury festival official website >>