Make The Bill Count
Autumn 2007: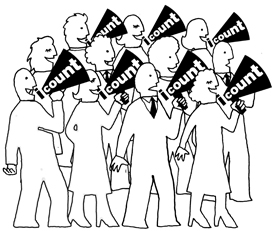 Following last November's climate change march in London, the issue of global warming has been firmly on the political agenda with the three main parties falling over themselves to appear to be greener than green.

Thanks to pressure put on parliament by numerous campaigns and countless campaigners, the government introduced the first draft of the Climate Change Bill in March this year.

The bill, which is likely to receive a second reading in December before being voted on by MPs in Spring 2008, offers a massive opportunity to legally commit the UK to cutting its emissions - but only if it's tough enough.
At I Count, everything we do is about making sure governments limit global temperature rises to no more than 2 degrees centigrade.
To strengthen the bill, there are 3 Top Changes we want made to ensure the UK does its fair share in keeping global temperature rises to no more than 2 degrees centigrade. Without the 3 Top Changes the bill will be ineffective and weak and will not do its bit to stop dangerous climate chaos. With the 3 Top Changes, the bill could set the UK on the right path.

The 3 Top Changes are as follows: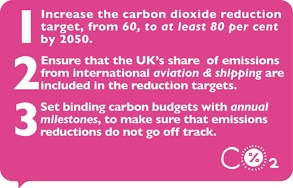 Speaking at the recent Labour Party Conference in Bournemouth, Prime Minister Gordon Brown said of the bill: "I am proud that Britain will now become the first country in the world to write into law binding limits on carbon emissions. But I am not satisfied: so I am asking the new independent climate change committee to report on whether the 60% reduction in emissions by 2050, which is already bigger than most other countries, should be even stronger still."


We can all do our bit to be heard with regard to getting these 3 Top Changes are included in the bill, all while making sure Gordon is convinced beyond doubt that 60% is simply not enough of a reduction.

All we ask is that you contact your MP and bother them to push for the 3 Top Changes. And to make this as easy as possible, we've prepared a series of downloadable toolkit documents that will make contacting your MP an utter doddle. Please click on the link below to find out more...

Click here for Climate Change Bill toolkit downloads >>