See the film that could change your world
'You'll believe a movie can change the world.' Empire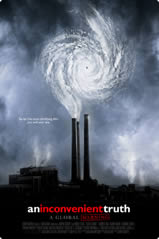 This you have to see.
The film offers a passionate and inspirational look at Al Gore's fervent crusade to halt global warming's deadly progress in its tracks by exposing the myths and misconceptions that surround it. In the wake of defeat in the 2000 election, the former Vice President, re-set the course of his life to focus on a last-ditch, all-out effort to help save the planet from irrevocable change.
Gore pulls no punches in explaining the dire situation. Interspersed with the bracing facts and future predictions is the story of Gore's personal journey: from an idealistic college student who first saw a massive environmental crisis looming; to a young Senator facing a harrowing family tragedy that altered his perspective, to the man who almost became President but instead returned to the most important cause of his life - convinced that there is still time to make a difference.
With wit, smarts and hope, An Inconvenient Truth ultimately brings home Gore's persuasive argument that we can no longer afford to view global warming as a political issue - rather, it is one of the biggest moral challenges facing our global civilization.
Go and see the film, and take your friends too. The come back to I Count and take action with us.
find a screening near you »