2,500 march in Nairobi voicing their concern over climate change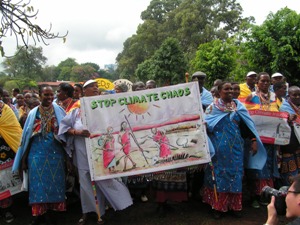 On 11 November 2,500 people marched through the centre of Nairobi voicing their concern about climate change. Marchers included women and children, prisoners and Maasai pastoralists. They passed through the city centre to rally in Uhuru Park for drama, dance, poetry and a variety of speakers highlighting how climate change is impacting primarily and hardest on the world's poorest people. This march coincided with the UN conference on climate change being held in Nairobi, calling for urgent action by leaders at this conference.
Speakers included Sharon Looremeta, Practical Action Project Officer, who also spoke at the I Count event in Trafalgar Square, London.
Angelique Orr of Practical Action outlined the work of the Stop Climate Chaos coalition, and shared with marchers news of the I Count event in Trafalgar Square. She made the point that there is massive global solidarity on this issue, particularly in regards to the need for justice, and that this is the beginning of huge, unified global campaigning on Climate Change.
The march was also attended by various other organisations including Oxfam, Friends of the Earth, Christian Aid and WWF.