Gore Gets Nobel Nod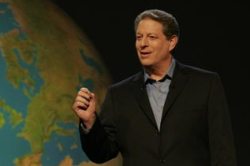 Al Gore is among a number of climate change campaigners tipped to receive the 2007 Nobel Peace Prize when the winners are announced later this week (12th October).









Although the five-member Norwegian Nobel Committee does not disclose the names of nominees, candidates' names are often made public by those who recommend them. In Mr Gore's case, both he and Canadian Inuit activist, Sheila Watt-Cloutier, were nominated to share the prize by two Norwegian parliamentarians.


"I think they are likely winners this year," said Stein Toennesson , director of Oslo's International Peace Research Institute and long-time Nobel Peace Prize watcher. "It will certainly be tempting to the (Nobel) committee to have two North Americans: one the activist that personifies the struggle against climate change, raising awareness, and the other who represents some of the victims of climate change."
Although the prestigious prize is usually reserved for statesmen, peacemakers and human rights activists, the move to include climate change campaigners has been cited as a drive to raise awareness of the link between peace and the environment.
"I think the whole issue of climate change and the environment will come at some point and reflect in the prize," said Jan Egeland , head of the Norwegian Institute of International Affairs, last week. "There are already climate wars unfolding ... and the worst area for that is the Sahel belt in Africa."
Earlier this year, Mr Gore's climate change documentary, 'An Inconvenient Truth', picked up two Academy Awards. The former US Vice President was also heavily involved in July's 'Live Earth' global concerts.
Ms Watt-Cloutier, currently the International Chair for Inuit Circumpolar Conference, has campaigned tirelessly on how global warming impacts on the people of the Arctic regions.
The winner, who will scoop $1.5 million in prize money, is to be announced in Oslo on Friday (12th October) from a field of 181 nominees.

Published: 17:20 - Monday 8th October 2007