Gore Wins More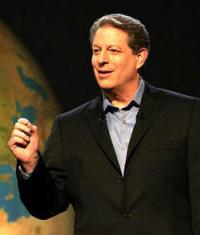 Al Gore may have failed to secure a win for the Democratic Party in the 2000 US presidential election, but the former Vice President has been honoured with a Grassroot Democracy Award by the Indian state of Meghalaya for his efforts to curb global warming.
Meghalaya, which translates literally as 'abode of the clouds', was until recently one of the wettest places on earth. However, climate change has drastically reduced the amount of rain fall in the region, while excessive deforestation is affecting the ability of the area's soil to hold water. As is becoming increasingly commonplace across the developing world, these factors not only affect the livelihoods of the region's farmers but have also resulted in shortages in drinking water.
"We hope Mr Gore would be able to bring global attention to what we are facing in our part of the world," said Meghalaya parliament member, Robert Kharshing. "This whole thing called climate change is affecting us the most."
A spokesperson for the Oscar winning campaigner behind An Inconvenient Truth and Live Earth said Mr Gore was "humbled" to hear of the award, but was unsure whether he would be able attend the presentation ceremony on 6th October in the village of Mawphlang.
According the BBC News in Calcutta, the award will consist of traditional gifts including local handicrafts and a "small amount of money".
Actions speak louder than words >>