Lib Dems Map Out Green Agenda
A tenfold increase in car tax for gas guzzlers, no new runways and zero carbon cars are among the green measures proposed by the Liberal Democrats.

Prior to their annual conference in Brighton next month, the third party has revealed its environmental policies in a document entitled, 'Zero Carbon Britain'.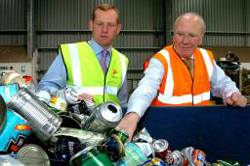 In an effort ensure that road transport is rendered carbon neutral by 2050, the party says it would graduate road tax up to £2,000 per year, although zero emission vehicles would be exempt from the levy. In addition it would introduce lorry road pricing on motorways calculated by distance and emissions.
New cars sold after 2040 would have to be emission free, while all freight transport would have to run on electricity, biofuels or other renewables by 2050.
With the policy paper suggesting that emissions from air travel are set to rise by 83%, which would effectively add up to around a quarter of the UK's total contribution to global warming, the party has also laid out some radical changes to the aviation sector.
The Lib Dems also plan to replace the Airport Passenger Duty with a pollution charge on flights to all destinations as well as charging a climate change levy on domestic air travel. High speed rail links they suggest will go some way to compensate for their plans to restrict Britain's runway capacity to current levels.
"It is clear that the Labour Government's aim of a 60% cut in carbon-dioxide emissions by 2050 will not be enough," states the report. "The objective of climate change strategy must be to make the UK carbon-neutral over the longer term."
Click here for the report details >>
published: 15:13 - Monday 18th September 2007