Ian Brown Speaks Out on Climate Change
The threat of global warming has found an unlikely spokesperson in the form of former Stone Roses front man, Ian Brown.

Speaking to The Guardian prior to the release this week of his latest single, 'Illegal Attacks', the Manchester based singer expressed his outrage that the US will not accept that global warming exists.

Brown went on to claim that the oil companies had suppressed the development of alternative fuels and big corporations had "bought inventors off" with regard to "everlasting" tyres and light bulbs.

"It makes me angry that they've been able to build cars fuelled by corn oil or chicken s*** for years," ranted Brown. "The chicken s***-powered car will only do 60mph but so what? Leave your house a bit earlier."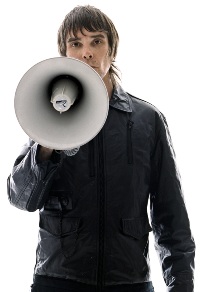 Explaining the thinking behind forthcoming album track, 'Lambs On The Pentagon Roof', the 44 year old said: "We need to ban all air freighted food. Carrots from Holland. Potatoes from Egypt. It's got to stop. Lamb from NZ. Let's get lambs grazing on the roof of the Pentagon or on the lawn of Buckingham Palace."


Click here to see what you can do >>
Back to home >>
Published: 12:44 - Tuesday 18th September 2007