I Count Bears Make a Splash in Bournemouth
I Count certainly made sure it counted at the start of the Labour Party Conference in Bournemouth this morning. The climate change campaign unleashed a sleuth of polar bears all wielding 'golf sale' style signs calling for an 80% reduction in CO2 emissions by 2050.

The five bears greeted delegates entering the conference and were later photographed alongside London Mayor, Ken Livingstone, who was in town to speak at a fringe event hosted by Climate Clinic.


photo credit: Jess Hurd

On the eve of the conference, Stop Climate Chaos, the coalition behind the I Count campaign, received a letter from Gordon Brown, in which the Prime Minister insisted that global climate change can be limited to 2 deg C.

In the letter Mr Brown said "all developed countries" would have to commit to emissions reductions in order to take on the problem.

"Climate change poses the most urgent challenge to humankind," wrote the PM. "A challenge that threatens not only the environment, but international peace, security, prosperity and development."


Speaking in response to the letter, Ashok Sinha, Director of I Count (pictured with Mr Brown), said: "We welcome the Prime Minister's aim to achieve a climate change agreement that will limit global warming to the widely-accepted danger threshold of 2 deg C. Especially important is his commitment to achieving such a deal via the UN. We also welcome Mr Brown's commitment to enacting a Climate Change Bill - the first statutory framework for lowering national emissions anywhere in the world.

"However, we call on him to raise the target in the bill from a 60% reduction in CO2 emissions by 2050 to at least 80% (and to include aviation and shipping), so as to fully meet the UK's moral obligation to play its fair share in the international effort to keep global warming under 2C," added Dr Sinha.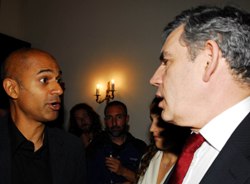 photo credit: Will Rose





Click here for Mr Brown's letter in full >>


published: 14:00 - Monday 24th September 2007