UN Calls on Greenpeace's Help 
Over Climate Change
UN Secretary General Ban Ki-Moon has personally called on Greenpeace to rally public opinion in the battle against climate change.

Speaking prior to this week's climate change talks at the United Nations headquarters in New York, Mr Ban told Greenpeace international executive director Dr Gerd Leipold: "We need you, Greenpeace, to mobilise public opinion and enable politicians to do the right thing."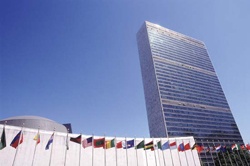 United Nations HQ - New York

According to an article on Greenpeace's website, Mr Ban and Dr Leipold agreed on the urgency of tackling the issue and the moral imperative of taking concrete action.
"The UN Secretary General has real moral authority," read the article. "We hope that Mr Ban will use it to call for a Bali Mandate, which will strengthen the Kyoto Protocol."
Monday's one-day summit in New York was attended by representatives from 150 nations, all coming together to discuss the conditions for a new international pact to replace the Kyoto Protocol, which expires in 2012.
Both California Governor Arnold Schwarzenegger and Oscar winning former Vice President Al Gore added a touch of star quality to the talks. However, their conspicuous presence failed to conceal the absence of President Bush, who sent Secretary of State Condoleezza Rice in his place. The President did though attend a private dinner with UN key players on climate change.
Speaking at the talks, Mr Schwarzenegger, the Hollywood action hero turned Republican politician received warm applause when he exclaimed: "One responsibility we all have is action. Action, action, action."
This was a sentiment echoed from the other side of the political fence by Mr Gore, who said in an address to delegates: "The need to act is now. We need a mandate at Bali." Bali is to host the annual UN climate treaty conference this December with the key topic of discussion being a new emissions-reduction agreement to succeed the Kyoto Protocol in 2012.
Mr Bush is to host its own two-day climate change meeting at the White House, starting today. The talks will be attended by representatives of the 16 countries that are currently responsible for 90% of greenhouse gas emissions.

Click here for Greenpeace article >>

Back to home >>


published: 13:00 - Thursday 27th September 2007