Cut The Carbon's 1,000 Mile March
Rounds off in London
After 80 days and 1,000 miles on foot, around 1,500 supporters joined Christian Aid's 'Cut the Carbon' marchers yesterday for the final stretch of their record breaking march.

Since the 14th July, 18 marchers from the UK and the developing world have traversed the British Isles to raise awareness of climate change.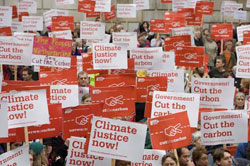 After gathering by Tower Bridge, campaigners made their way to Tooley Street, where they joined the marches to complete the final mile of the record breaking march - the longest in British history.

Having snaked through the City of London, the marchers and their growing throng of supporters amassed for an hour long lunchtime rally outside St Paul's.

Speaking from an open top bus parked outside the London landmark, the marches addressed the 1,500 strong crowd, regaling tales of their colossal journey that included and audience with Gordon Brown at last week's Labour Party Conference.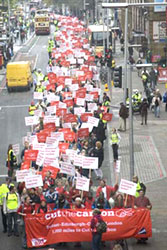 However, the key message of the day was to put pressure on the Government to ensure that the forthcoming Climate Change Bill will include an 80% cut in CO2 emissions by 2050, as opposed to the currently proposed 60% cut.

Following the rally, the day's activities rounded off with a celebratory service at the cathedral that marked the marchers' achievements and gave thanks to all of the people up and down the country who made the two and a half month walk possible.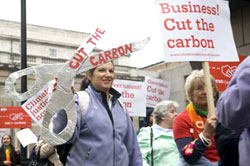 Click here for Christian Aid's website >>
Published: 12:05 - Wednesday 3rd October 2007