Al Gore & IPCC Win Nobel Prize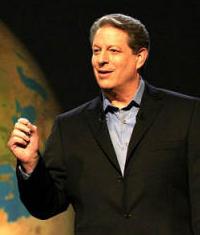 Former Vice President Al Gore and the UN's Intergovernmental Panel on Climate Change have been jointly awarded the 2007 Nobel Peace Prize.
Mr Gore - whose climate change film, 'An Inconvenient Truth', won two Academy Awards earlier this year - said he was "deeply honoured" at winning the prestigious prize. "I will accept this award on behalf of all of those who have been working so long and so hard to try to get the message out about this planetary emergency," added the long-term climate change campaigner.
According to BBC News, the Norwegian Nobel Committee said it awarded Mr Gore and the IPCC the prize in an effort to draw attention to the "increased danger of violent conflicts and wars, within and between states" posed by climate change.
IPCC chairman, Rajendra Pachauri, said he and his team were "overwhelmed" at winning the award. Speaking from outside his office in Delhi, Mr Pachauri added that he hoped winning the prize would bring a "greater awareness and a sense of urgency" to the fight against global warming.
The Nobel Committee said the IPCC's reports, which pool the collective knowledge of over 2,000 leading climate change scientists, had over the past two decades "created an ever-broader informed consensus about the connection between human activities and global warming."
Mr Gore was also praised by the committee. The 59-year old was referred to as: "probably the single individual who has done most to create greater worldwide understanding of the measures that need to be adopted." Mr Gore said he would be donating his half share of the $1.5 million prize money to the Alliance for Climate Protection.
US President, George W Bush, who controversially beat Mr Gore to the presidency in 2000, was said to be "happy" at the "important recognition" for both his former political rival. However, the president was unlikely to change his stance on global warming to a more "Gore-style" approach, the spokesman added.

"Al Gore and the UN's Intergovernmental Panel on Climate Change (IPCC) have done phenomenal work in spreading scientific knowledge on dangerous climate change and creating greater worldwide understanding of the urgent action we must take to stop climate chaos," commented Ashok Sinha, Director of I Count.
"The Nobel Foundation has sent a clear message to our world leaders that climate change is the most pressing issue of our time. The next two years are a crucial window of opportunity for the world to sign a deal to keep global warming below the 2 degrees C danger threshold. I Count is therefore delighted that the Nobel Peace Prize prize has been awarded to individuals and organisations who are dedicated to addressing this urgent challenge."