Kofi Annan Launches Climate Change Forum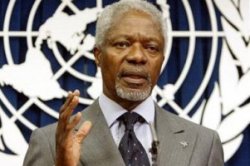 Kofi Annan, the former Secretary General of the United Nations, yesterday launched the Global Humanitarian Forum, which will aim to coordinate international efforts on tackling climate change.
According to Reuters, the Geneva based forum will be governed by key UN figures past and present in addition to ex-presidents, royalty, bankers and academics from both rich and poor countries.
"We need to get the world public to focus on the fact that climate change is not something down the line but is happening now," said Mr Annan at a press conference prior to the forum's ceremonial launch. "And that we have to work together to combat it."
With financial backing and support from the Swiss authorities, the forum will stage its first annual meeting in Geneva in June 2008.
Board member and head of the UN's Nobel Prize winning Intergovernmental Panel on Climate Change (IPCC), Rajendra Pachauri, said the forum would help to foster collaboration on the issue.
While fellow board member and former UN humanitarian relief coordinator, Jan Egeland, stressed the urgency of the forum's work; quoting the statistic that  five times as many people were dying around the globe from natural disasters linked to climate change than from wars and other conflicts.


Back to home >>


published: 12:17 - Thursday 18 October