Blues Go Green
With New Report
Short-haul flights and gas guzzlers have found themselves in the sites of Conservatives today following the publication of the party's 'Blueprint for a Green Economy'.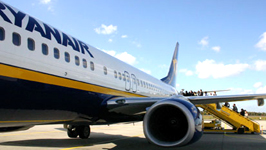 Commissioned by party leader David Cameron and compiled by the party's Quality of Life Policy Group, the report recommends higher taxes on high polluting vehicles and reforms to air passenger duty that would charge "per flight" rather than "per passenger".
Authored by former environment secretary John Gummer and editor of The Ecologist Zac Goldsmith, the 550 page document also suggests the introduction of VAT on domestic flights in addition to restrictions on further airport expansions and water metering in all homes.
Although airlines, road user organisations and a taxpayers group were quick to reject the findings, environmental groups cautiously welcomed the proposals.
"There is some very good stuff in here," said Friends of the Earth director Tony Juniper. "Our job now is to make sure that as much of it as possible becomes Tory Party policy."
The timely report follows the recent release of the Green Alliance's appraisal of the three main parties' green credentials. The lobby group rated the Tories bottom, Labour second and the Liberal Democrats top.
Click here for pdf version of the full report >>
published: 16:50 - Thursday 13th September 2007