The I Count event
Thank You!
What a day!  25,000 packed into an unseasonably sunny Trafalgar Square, even the surrounding roads needed closing, and every single one of us counted - the start of an irresistible call for action on climate change.
And who wasn't there? From Women's Institute members to Razorlight, tens of thousands of 'I Count' supporters travelled from across the UK, some by bike, canoe, and even in biofuel green taxis, to highlight what many believe to be the greatest man-made threat ever. Surfers Against Sewage arrived wearing wetsuits and carrying surf boards.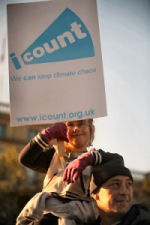 © Nick Cobbing/Stop Climate Chaos
Speakers and performers on the day... 
Rufus Hound
Crocodile Style
Simon Amstell
Dr Ashok Sinha, Director Stop Climate Chaos
Adam Hart Davis and Sharon Looremeta
Miranda Richardson
Rt Rev James Jones, Bishop of Liverpool
KT Tunstall
Robert Newman
Razorlight
VJ's were Alberto Roveroni and Marco Ruffatti from Cluster-1 in collaboration with green.tv
Razorlight and singer songwriter KT Tunstall played short but rocking sets and TV comic Rufus Hound lead the crowd in a thunderous 'I Count' chant to reverse the images of climate chaos shown on the massive video screens.
Miranda Richardson and Right Reverend James Jones, Bishop of Liverpool were among those who passionately demanded that Tony Blair take real political action in response to the millions of us already cutting their personal carbon counts.

Sharon Looremeta, a Masai woman from Kenya also talked about how climate change is having a devastating impact on food and water supplies in her country effecting millions of peoples lives.
After playing KT Tunstall said emotionally:
"I was proud to be part of this event. We have to tell the men over there in Parliament to do something now. They have to show respect for our beautiful planet."
You know, it really was a day when we all counted.
Didn't manage to make it along? Join the 'I Count' campaign now sign up or text 'I Count' to 84424.
See images of speakers and performers here>>
Upload you own images or write a blog>>